What do you use for a Notary bag? I am using a computer bag now and wanting something new.
Hi - I use the notary bag from the NNA. It has pouches inside for the seals I own and space to store plenty of supplies. If you get the legal sized you can fit a file inside the bag too but, I use separate expandable file folders for each file as I usually have multiple signings per day.
Thank you, I am going to look at the NNA website.
I had to put in my two cents here. Due to a recent foot surgery and lovely "boot" I have to wear, my doctor recommended I temporarily use a rolling briefcase. I had one I had just been using for storage. I really liked my "samsonite" carry one. So, a few jobs later and I'm really liking this rolling bag (protege). Surprisingly, even with the wheels it's lighter than my old bag. This matters when your tendinitis shoulder is acting up! Maybe NNA has them too, I don't know.
I'm a fan of the Vaultz products.
The Vaultz Locking Field Pouch, Large - Black (VZ00740) is my favorite; I use one for each jurisdiction in which I am commissioned, the pouch has a combination have room for stamp, seal, pens, journal and everything… They're a little hard to find in black these idays, but is availale in other colors and patterns. One place that claims to have the product in stock is acedepot.com.
Another option is the Vaultz Locking Storage Clipboard Black (VZ01230), which can hold most notary materials, all in one place.
Both products can be had for about $28, and can be found by googling the product name.
Both can be purchased at most major retailers/e-tailers
HWB.
I use this NNA Messenger Bag. Fits legal size folders! Nice looking and durable. It's better looking than the photo! One client asked where I got the bag from. She wanted to buy the same one too:)
12.5" H x 16.5" W x 4" L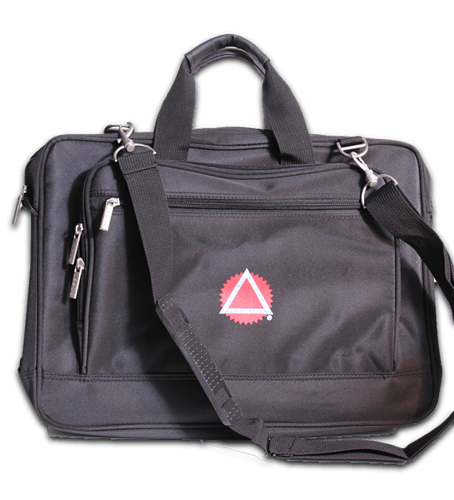 This Rolling Locking File Tote - Legal. Great for same day multiple closings. Keep them locked.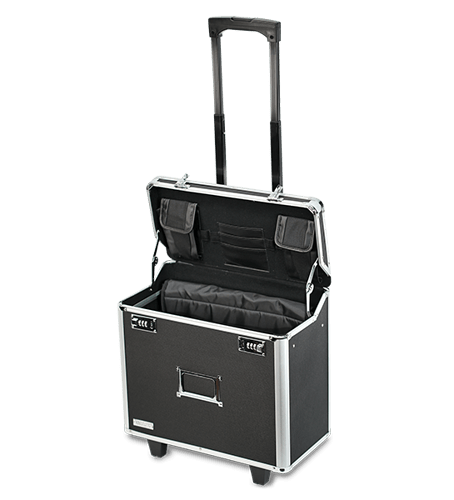 Highly mobile, with wheels and telescoping handle, this locking case is a safe and attractive place to store your Notary supplies and use to transport your documents.
Secures your Notary supplies and important documents with double combination locks
Organization panel for supplies
Comes with padded, removable computer sleeve that fits 16" laptop
Has built-in metal rails to accommodate legal hanging file folders
HIPAA compliant
Chrome label holder on the front
Color: Black
External Dimensions: 16" H X 16" W X 10-1/4" in depth
Internal Dimensions: 13-1/4" H X 16-1/8" W X 8-1/8" in depth
Do you have a link to were to get this?