Has any body work with this Company lately. I get text from them all the time?? Got one today.
Sherrie
I've worked with them and if you are on Snapdocs they pay through the VendorPay system on Snapdocs. Did a job on 1/27/18, paid 2/9/18.
Thank you Mary for you information.
Yes, Mary, I have. I had a few signings that were OK. Then, this weekend, they assigned me to one that cancelled when I arrived at the signer's home, over 60 miles away. So, it was a 2-hour round trip drive. NPN reduced my fee from $100 to $60 without warning. And, when I inquired, the contact person there (Anne Oehmann) replied that's their terms and conditions and I was supposed to know that before I accepted my first signing with them. I assured her I would inform every NSA I could what a negative experience I had.
Not worth your time. I am a mobile signing agent in Tennessee and on my very first signing with them they dropped the ball in regards to rescheduling an appointment with a signer and their lender. Closed the signing, and when the signer called me wanting to know why I had missed the appointment time I had to explain that I was never contacted in regards to the new appointment time. I sent them a message and let their team know that this had been rescheduled and that the signer had just contacted me about it. They reactivated the signing and did not put in the fee that was agreed on, a very low price as it was. A total of 4 hours go by and I received 3 separate emails on updates to the signing, none of which was the fee being added or adjusted. I completed the signing and they still had yet to adjust the fee. I asked them to please fix this issue as I will not submit completed work when it shows I am not getting paid for it. Their team decided this was a threat to permanently withhold the documents and went off the deep end. Their excuse was that it is the end of the month and that they are very busy, and this would have been adjusted eventually. I have also reported their unethical practices to several organizations that they do business with as well as several notary organizations to inform them to beware of the practices of this company.
I have done 6 lately and they pay as advertised. Last day of the following month via US mail. 9/4/19
TSP
I will not represent myself as anything else, but only as a Notary Signing Agent. I show my Dr. Lic., state my name at the door, and ask for the names on the docs. Then I give them my Business cards and my pledge card! And go from there. See the attached pledge card.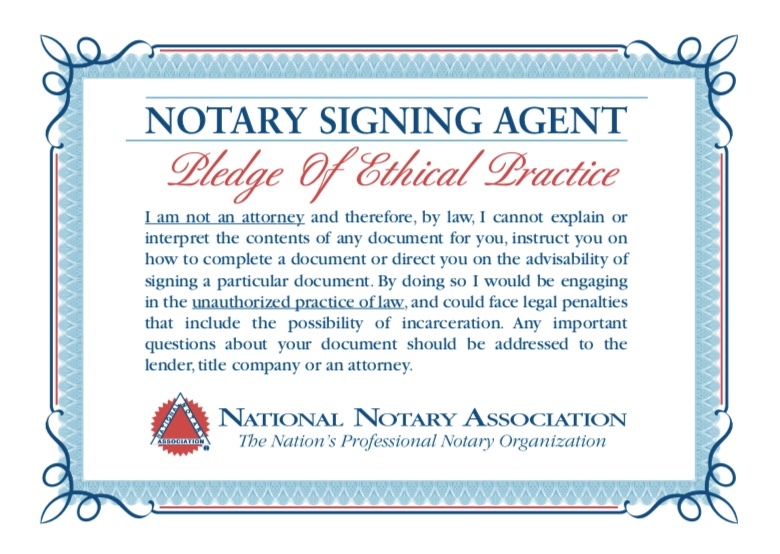 Thank you so much for posting this. I had a Debt Settlement signing on Thursday through NPN. I followed all instructions and scanned the docs back after the signing. On Friday I received a note from NPN that some information had been missed. I supplied the information, I was responsible for and One of the documents was not completely filled in so NPN asked me to complete the form. I am refusing to do so as the form is a binding agreement between the Firm and the Signer in respect to debiting the Signers bank account. I reached out to the Signer to set a meeting to have the Form corrected and the signer was not interested. I shared this with NPN but they are still pressuring me to fill in the blanks on the Agreement form. I am being told I am required to fill in missing information and that it is ok for me to copy information from one document to another after the Form has been signed and dated by the Signer and I have stated I will not do that because I am bound by my State Laws in respect to a Notary's responsiblites. It is my responsibility to reach out the the involved person and attempt to have them make corrections or add missing information, of which I did.
Wow, they pressured you to complete the ACH form? You said "debiting the Signers bank account" So I will presume it was an ACH form. OMG! That form is to be filled out and sign by the signer! Not you! So thankful I don't do anything for these people. Just stick with title companies and good signing agencies. Terrible. Ugh.
It was the ACH Form. I have stood my ground on this and Anne Oehmann (NPN) was less than nice. She let me know NPN would not send any more signings my way (I'm grateful for this it saves me time in declining) and she has let Snapdocs know of my unwillingness to follow instructions. I will definitely follow your suggestion!
I would not accept work from these people… $50 to drive 1 1/2 hours on 180 pages???

Bottom feeders that accept work for so low hurt the industry and puts a stain on our profession. Please, when you accept work like this, whoever you are, calculate your toner costs, paper costs, wear & tear on your printer and vehicle, tires, brakes, gas expense, what's your time worth?, annual background check fee, E&O ins costs etc… wtf would you work for free???
i received an email from them this morning stating that they are moving to a "membership status" and that i will not receive any further closings from them if i do not pay membership. i haven't even been paid for the one closing i did for them last month now they want me to join? wow.
Horrible company: Accepted a debt settlement signing (didn't know it was actually a sales pitch offering a terrible deal.) The job said 50 to 60 pages for $75. I was sent 113. When I inquired about the extra pages I was told 40 PAGES WERE CLIENT COPY BUT ONLY PRINT THEM A COPY IF THEY ASK WHEN I CONFIRM THE APPOINTMENT Printed out the directions … all documents have to be returned by 6 pm same day including holidays and weekends. Best part … They reduced my fee to $60 for missing a signature, then a few days later, NPN sent an email stating I wouldn't be paid unless I took a debt settlement course and passed the test by 5 pm that day. There was absolutely no mention of this when I accepted the signing. I took the course with the provided link THEY sent me to receive another email saying I wouldn't be paid because I didn't email them my results. Sorry but they not only are they shady, they have to be terrible humans to work there.
Wordplay specialist:
I asked if their payouts were net 30. They responded no then in a separate message explained their payout policy I guess in hopes I wasn't going to check until tomorrow.
I would be waiting until the end of January for a signing completed at the second week of December. So almost a two month wait for possibly $75?!
To quote Reggie Jackson: Yea that's gonna be a no from me dawg.
Almost two months no payment signing on 10/17/2020 and 10/22/2020, Was told all October payments gets mailed out on November 30, 2020. Well Guess what nothing yet. I reached out to them via snapdocs was told to email someone name Lisa. I did guess what 3 days no response. I am not the Notary to play with when it comes to my money and my time. I will post a follow up once I receive payment and trust me it will be soon.
I say do not do business with them, I did two signings with them and the second one I did just a few days ago. I just received a check from them it was to be $50.00 but it was only $21.00 they charged me a membership fee, the day after I did the signing, the text me and stated that I had to take a test, they were not aware that I had not taken it if I did not take it I would not be paid. I did an assignment with them through Snapdocs but you have to look under "Companies" to see how each signing service works and well I just looked to find out that they charge a Membership Fee of $29.00. I say do not use them, I think this was a sneaky way of doing business and they don't want to pay much. Never again will I work for NATIONAL NOTARY AND PARALEGAL
Seems like they need to be reported for Fraudulent activity if no one agreed to have a membership fee deducted from your pay. That's stealing. And…they are violating your 6 Rights as a 1099 Contractor.
same experience I am looking to find a way to fill a complaint and start a suit against them
I did a job for national paralegal. I did a job for $70 on 9/23/21. Finally got paid today 11/2/21. The check they sent is for 41$. They deducted 29$ for a annual membership fee. As a notary It feels like all these companies just try to take from us as much as possible.What a shame. I will never do work for these guys again SMH

I am so sorry to hear that. That is so wrong!
"Good will come to those who are generous and lend freely, who conduct their affairs with justice."Psalm 112:5