Where is the best place to get sample forms to study?
What forms are you referring to? And why do you want to study the forms? The reason that I ask this question is that many new notaries fall into the mistake thinking that they need to know the forms and have to explain in detail the information contained in them.
Your job is to witness, notarize and present the package correctly. Packages vary from lender to lender and Title Company to Title Company. So I wouldn't focus on knowing every form. But if you are looking for a resource to study the NNA has a Loan Document Source Book that you can use for reference.
I am referring to the refinance the seller packages etc the loan docs that need notarial wording basically. to be prepared is the reason. I do have the book but the writing is small. I found them on the NNA website. Thanks
Here's an article that explains some of them - I think it may have been posted here at some point.
An Explanation of Standard Loan Closing Documents
As to this
I'm not quite sure what you mean here. All packages and lenders are different and may vary from the usuals, i.e. Mortgage/Security Instrument, Name/Signature Affidavit, Title Affidavits, Deeds of Conveyance, etc etc.
Maybe I'm missing something.
You may find this direct url helpful: http://static.crowdwisdomhq.com/nna/courses/NSA_Parent_Course_8.4.2016/flash/content/resources/documents/LOAN_DOCUMENTS_AtAGlance_4_8_15.pdf
It was posted previously on the forum.

======
Also, you can find nearly EVERYTHING that you may ever want to know about this particular business sector in the forum database.

Best Wishes

Your job is to witness, to verify and notarize. Unless you are an attorney, a lender/loan originator, or title co, it is unlawful for you to explain docs in detail.
You can say the verbiage of "Pledge of Ethical Practice" to them or let them read on their own at the beginning of your signing. I had it memorized so it's very easy for me.
Pledge of Ethical Practice:
"I am not an attorney and therefore, by law, I cannot explain or interpret the contents of any document for you, instruct you on how to complete a document or direct you on the advisability of signing a particular document. By doing so I would be engaging in the unauthorized practice of law, and could face legal penalties that include the possibility of incarceration. Any important questions about your document should be addressed to the lender, title company or an attorney."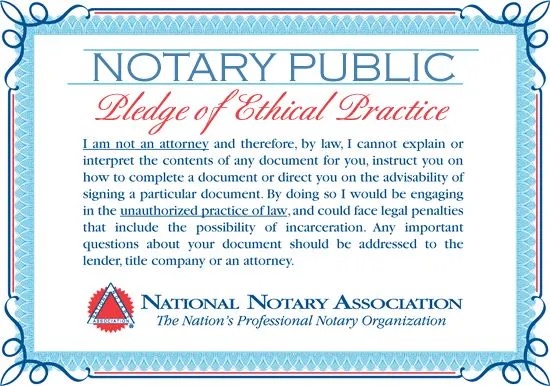 Don't worry so much! Just know your state notary laws and go for it. You will zoom right though after the first 5 closings. Enjoy and good luck!
I made labels with this printed and attach it to each file folder I leave with the signers. I also go over theses rules at the beginning of each signing and so far no issues or problems with them understanding my role in the transaction.
Thank You for the response.
That will be a nice thing to hang on the wall.
You can download it from NNA website.