Is anyone having a problem getting paid by this company via Vendor Pay with Snapdocs?
It's been a little slow and I attributed that to the holidays but I did receive a check from them on Friday, so I can't say that it's been a "problem" per se…just slower than normal.
I have once last year but eventually I got paid.
Yes, following up right away.
No. I have done 4 signings, and have been paid between 19 and 37 days.
Was that direct business or via Snapdocs vendor pay?
Yes I did one for them Nov. 19th and still have not been paid. The vendor pays states that I was to be paid between Dec. 17 - 21 and today is 1/4/2022. I sent a comment through Snapdocs and Bunny Campbell said that Snapdocs changed their account number or ID code and she is trying to get Snapdocs to correct it on their end. That was on Dec. 28 and as of today still no funds AND no response to my last 2 emails one on Dec. 31 and again on Jan. 3. Still no money or response. Support@snapdocs.com doesn't respond either. It is very frustrating that these signing companies demand so much from the notaries yet you can't get paid for the services you provided for them. Anyone with any suggestions?
Interesting my signing was November 17. I'm getting the same double talk from Snapdocs. How would they like it if we accepted and not show up?
slow - over 45 days just recently - Snapdocs.
Mine is closing in on 60 days! Snapdocs is useless.
Hi, I'm still waiting for payment as well. And yes Snapdocs is of no help at all. I am sure that those people expect a pay check on their payday and would be upset if they didn't get paid! Why are we suppose to be different? I called the company I did the closing for and he was going to be sending an email to Transtar and maybe something or someone will respond. Any other suggestions as to how to handle getting payment?
I have no idea. That's why I posted.
Snapdocs doesn't pay, that's just a portal. The company for the closing pays.
I know Snapdocs doesn't pay and they are just a clearing house. My complaint with Snapdocs is that they clearly don't do an adequate job in vetting the companies they do business with. There's an implied trust that we signing agents expect when we take assignments from them.
So I actually got ahold of someone at Transtar National Title and she sent an email to disbursement@tstartitle.com and I actually got a response . However, the disbursement person stated, "The issue is with Snapdocs and their payment processing company. Transtar has had funds available and has not changed any information." Period.
She offered nothing else. She didn't offer to look into the matter any further. No let me cut you a check, nothing…that was it!
Needless to say, putting the blame on Snapdocs didn't sit well with me. I don't care about excuses, I want to be paid for my service. And if happened to me how many others has it happened too? I am sure that those Transtar employees would be upset if their pay check didn't get deposited on their payday!.
Shame that they are delaying your payment with a lame excuse. Terrible to blame Snapdocs since they are not responsible for payments. Maybe they are not financially stable company? It's robbing Peter to pay Paul syndrome to me.
@AMAtteberry1 Have you considered sending a Demand Letter to them identifying a "failure to fulfill contractual obligations in a real estate transaction" with a copy also being sent to your attorney?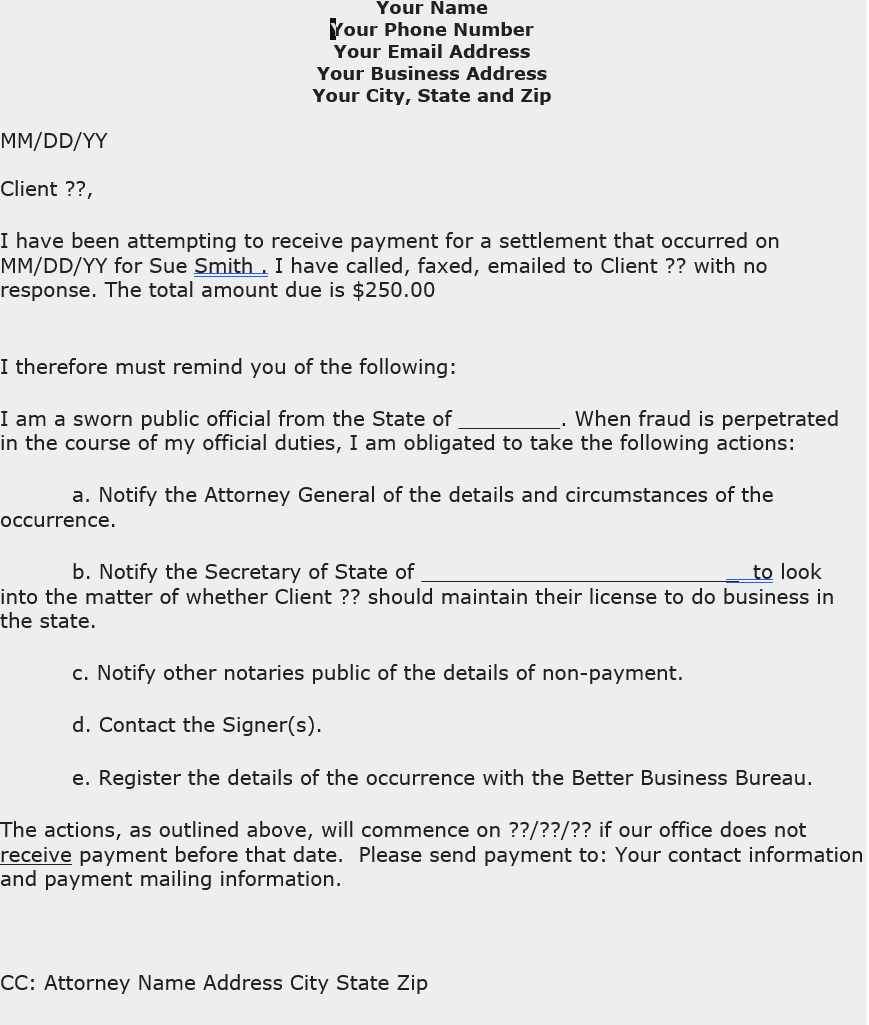 I received the same run around that everyone else has been given. I will be contacting the lender to let them know I have not been paid.
Hello, just an update, I still don't have my money! Transtar claims a check was overnighted to Snapdocs on Monday. Today is Thursday.
Snapdocs states they don't have anything from Transtar but that they are "working" with Transtar on getting their "payment" issue resolved. So professional and convenient to point the fingers at each other! I already called the lender. He was the one that sent out the first email for me. He has paid Transtar already.
I will be sending Transtar a demand letter tomorrow.
Anyone have any luck getting your money from Transtar?
This is so frustrating!
I have not received my fee from Snapdocs for the TransStar signing. Do you plan on filing suit when they ignore your demand letter?