Please share your experiences with AOE Signings, Tempe, AZ. Owner says he has been business for 13 years.
I just did a closing for that company ans it came through SigningOrder,
Administration Login :: New Clients Please visit our registration page. Client Registration.
Click on that and see if it doesn't send you to SigningOrder.com to sign in and it'll ask if you want them to send your profile to them
I did a signing for AOE Signings LLC on Signing Order. The signing its self went fine but I was wondering about payment from them. Searching Mr. Torress I found Never Sleep Notary or something close to that but it says it is out of business.
I did a signing for AOE Signings LLC in mid-January for which I have never been paid. I contacted (via email) the company to inquire about payment on March 1st and have yet to hear back from anyone. I will update this post if/when I get a response. I have a phone number that I will also use to try to reach someone. Stay tuned . . .
I'm waiting for payment on an order from 12/21/21, and all I've gotten from them are lies and more lies.
Tempe, AZ? They show a PO Box in Delaware as their mailing address. I can only speak about my experience with them, and it isn't good. Waiting on a payment from 12/21/21–all I've gotten up to this point is lies about when the payment is going to be sent.
I know of no reason AT ALL to trust this company. Waiting on a payment from an order completed 12/21, 21–and have gotten nothing but lies about when I will receive it. Today I will call the title company and let them know they may be sending orders out to a crook.
As a last resort, let them know that you intend to file a claim on their surety bond. That usually gets their attention.
A surety bond is not in place for the protection of another notary. It is for the protection of the public who use the notary's services.
" A surety bond protects the public from a notary's misconduct or negligence. It does not protect the notary. The bond provides coverage for damages to anyone who suffers financially due to an improper official act on the part of the notary."
You'll love this. AOE is holding off paying notaries what they are due for work completed weeks if not months ago—because his bank is putting a hold on checks he's depositing NOW. So in other words, he's paying older signing completions with funds he's receiving from much more recent signings–IF he's paying anyone at all. Where I come from, that's called a Ponzi scheme.
Interesting . . . how did you find this out? Were you able to speak to anyone at AOE? I spoke to Dylan (D. Will Torres) late last week, resent him my email re: payment per his request when we spoke (he did not remember receiving it), and he had a check cut and released immediately. The payment is coming through a bill pay service and I received confirmation this morning from that service that the check will arrive by March 10th. Dylan was very responsive once I called him, so what you found out is surprising and concerning to me. I'm super curious to know how you found this out! I have another job I did for them recently for which I'll be carefully tracking payment status.
I found out because he told me, and sent me an email in which all the deposits he made had holds put on them. Will try and copy/paste here. Essentially he won't pay until he has money to pay, even for orders completed months ago and for which he was SURELY paid months ago. Now he's saying he will pay me this Friday. I'll believe it when I see it–and the check clears.
"Please see below screenshot from our Bank of America bill pay. They placed a hold on over 60 checks. Once on the 23rd another on the 1st of March, as I stated previously when your check was cut, they placed a hold that day.
I cannot control the guidelines of BofA but I will add a $25.00 late fee and it will be issued Friday."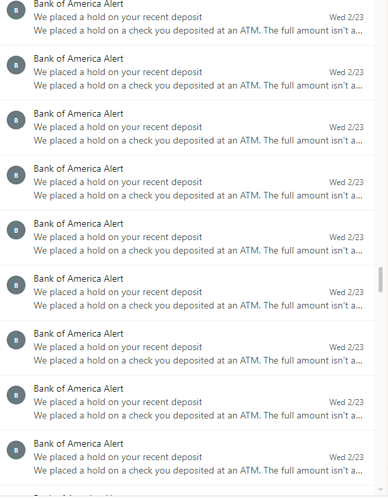 Wow!! I wonder why the hold on all of his deposits?!? He may have had some fraudulent activity on his account. I'm happy he is agreeing to pay you by Friday and also adding a late fee, which is fair. Please keep me posted on whether or not you get the check and if it clears once you receive it. I'll be keeping a close eye on this one . . . I appreciate the update very much!
Paying for signings completed in late December with funds deposited from his clients two months later? Where I come from, that's called a Ponzi scheme. He may claim he's going to pay me this Friday, but not once ounce of my being believes that, nor will I until I get the check and it clears.
I got a generic email yesterday, appears to be from some payment service, that my check was cut and I should receive it by end of next week. Shows as being $25 more than the original amount, so he may have kept to his word. I will believe it when I see it of course, as well as the check having cleared.
Nearly 90 days to get paid. I will never take this guy's orders again, though it's likely I'm not on his preferred notary list, either!
I just accepted a signing from them and now wondering if i should give it back. Did you ever get paid for this signing?
He went out of business under "Never Sleep Notary" and then came back under this new name.
No, I have not. Last I heard was the email that said the check was cut and I should have it by 3/16. Nope, didn't happen. Since it's supposedly coming by mail, I will give it a day or two more.
He claims 45–60 day payment terms. Don't believe it. He'll pay off old jobs with money coming in from new jobs–a surefire way to go out of business and leave others holding the bag.