(CA) It's a scam company. They want $35-$45 from you to "sign up" and you'll never hear from them again. Stay as far away as possible. I didn't when i was starting out and it cost me.
I really scrutinize email addresses and domains these days especially when if I get an email request. From what I can see, http://usasigningagentsmail.com does not appear to be a live domain which would make me worry whether an email from them is a legitimate assignment offer.
And I did a specific Google search for "contact@usasigningagentsmail.com" and came up with nada. So personally I would not consider it legit.
But https://usa-signingagent.com/ is a company with a live domain, and yes, they charge $39 per year to be listed on their website.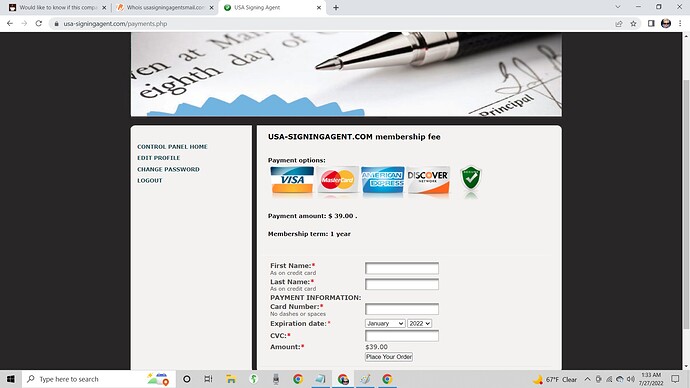 Jessie, your profile on SigningAgent.com looks excellent except I noticed that under "Services" you marked NO for eDocs. If you are able to receive loan packages from hiring companies via email (no special license required for them to email you the loan package), I recommend changing your response to YES.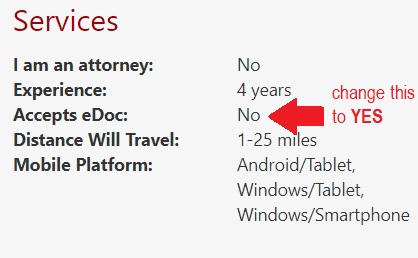 You definitely increase your odds of getting more assignment requests by communicating to potential hiring companies that you can accept eDocs.
Hope this helps you.
No. It is a "registry", claiming to post your name and give you "exposure" for a certain fee.
Ignore it. Save your money to post as a Pro on Notary Cafe or Notary Rotary. Those are places where real companies who really have work will find you.
Thanks for sharing this. I double checked my signing agent profile and it was marked 'no' for accepting edocs. I just edited and changed it.
I learned this for real estate: " i get paid to do business. I do not pay to do business".
It's a very good motto. Free is best. But even realtors have MLS and other fees they must pay to be in business.
I was not refeering to professional fees linlke mls, office, insurance, classes, etc. I wa referring to referral services charging.
Sorry if I misunderstood. I pay to be listed on a few sites such as Notary Cafe and Notary Rotary – for me it is worth it.
This topic was automatically closed 60 days after the last reply. New replies are no longer allowed.