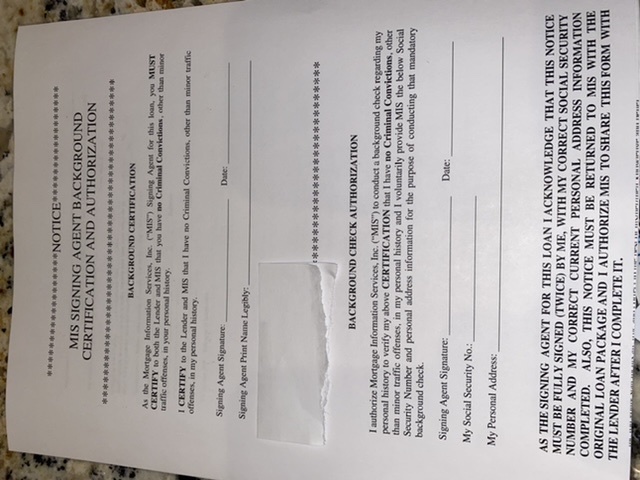 What? Looks like a fraud to me! Don't fill out that form! Don't sign! Looks like someone is trying to steal your info!
Where did you get that form from?
That was part of 160 page loan document. The part that I have the piece of paper over is the signer name and loan information. I requested to be taken off of the loan assignments. I do not feel comfortable having my information be a part of someone else's loan.
OMG! I've never seen that! The language in that form seems fishy to me. What they want you to do right there is enough for someone to go apply for a loan under your name or worse!
Have you worked with them before? I checked their website it looks fake to me! not secure msg on url bar. no thank you. anytime I open a website that says not secure at the top I'm out!
I would ask to submit a separate vendor package with the requested information. The required signatures and address are common, but the SS# needs to be on a dedicated vendor package along with your other forms (commission, E&O, background check, license, application, etc.)
I've already submitted ALL of my information with the company that assigned me the job. I have my title insurance license and I've had my background checked extensively. There's nothing I'm trying to hide. I just no it's not necessary for a random mortgage company to have run a background check on me and no reason for anyone to have my personal information associated with their loan.
People people, calm down, it's just a standard form from MIS, Mortgage Information Services who I've done over 50 signings for. You do not need to fill out that form if your already approved with them to do signings, just leave it blank. I get between $100-150 per signing in Hawaii and they pay within 21 days so keep them coming! Aloha!

Thanks for sharing! Good to know!
Can't believe I'm printing docs at 1:49 am Colorado Time for Saturday morning's closing! Oh wait, dang, it's Saturday morning already? Yikes! NSA life.

I've also done signings for MIS and have never understood how they can think that it's ok to request this info from the notary on EVERY signing. Leaves you totally open to identify theft. They should have your info stored in your profile.
I just recently did a signing for them and said I was going to contact them and complain… not just for myself but EVERY notary! Totally asinine…
And the times I didn't fill it out, they complained and requested me to send it in because it's "mandatory".