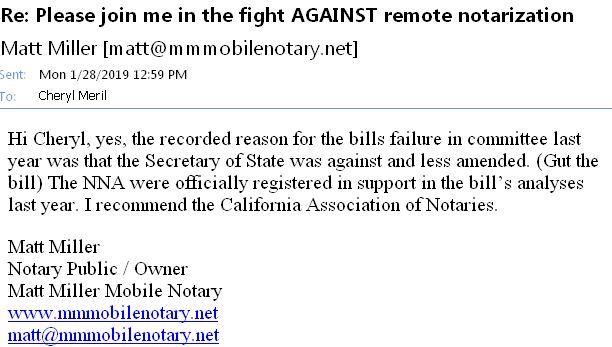 When I first became a notary public in 2008, the NNA was the only resource I had available. I attended their first conference in Las Vegas where I spent a lot of money as well as for all of the supplies I purchased from them. Even back then the NNA was pushing for electronic notaries and sold me one of their class packages with a electronic seal. Little did I know it wasn't yet legal in California because the NNA didn't let me know.
Since that time, the NNA has been pushing all kinds of money making scam ideas that never come to fruition. I recently learned about their latest attempt to support a very bad bill in California that would destroy notary businesses and allow out-of-state notaries to offer remote services in our state as well, I was absolutely astonished over the NNA's apparent greed after learning of their being in the back pocket of Notarize.com.
The NNA had me once believing it had my best interests in mind as a notary public to protect our industry. In the case of remote notary publics, this is clearly not a good thing. In regards to the AB199 Online Notary Act of 2019 the NNA is documented on record supporting this horrible evil travesty. The SOS rejected this bill last year! This bill is clearly money grubbing, the NNA is behind the website Notarize.com.
Simply because the NNA defines itself a not-for-profit organization doesn't mean money isn't their primary goal. Such is why they lose all credibility attempting to present themselves here for the best interests of our industry. The term "wolves in sheep clothing" applies here. They are really really greedy! Think of all the members they have in the United States who pay them a $69 fee alone! They put on an expensive conference once a year and hire a couple attorneys to make them seem like experts. They rub elbows with politicians and legislators acting like they have all the authority and power but what it all really comes down to is money, how they make money off their cattle called notary publics.
My experience has been the NNA was involved in negotiating with title and escrow companies a standard to make sure notaries don't get paid for each notarization they provide in mortgage document packages as Notary Signing Agents. The industry has kept the NSA's fees low since 2008 without adjustments for inflation for the past 10 years! The abuse of notary publics for the higher ups to profit by became very apparent over the years.
The NNA is a wolf in sheep's clothing, I was warned this a few years ago about them but this is just clear betrayal of notaries to try and push this horrible bill on California as they have and will continue to do.They lied to me when I called about renewing my membership asking about the new law I believed had already passed, AB199. They said they didn't know anything about it. Notary (and forced to be activist) Matt Miller said they flat out told him they don't care what people think about their supporting this bill that is entirely unnecessary since another one is already in effect that is working quite well.
Even the SOS in CA is against it!
The NNA is really a for profit entity and should not be allowed to use "organization" to hide behind as wolves searching for ways to lure and cash in on their herds of cattle in states across the nation.