First let me introduce myself since this is my first post. I am a retired Air Traffic Controller, retired about 2 years. I live on the west side of the lower peninsula of MI on the Muskegon River. I like to boat, fish, hunt, camp, ski, bowling, tie flies, read and I am active in my church. I am really enjoying retirement with my husband and 2 rat terriers.
You would think with all my activities that I wouldn't have time for much else…but as my husband says, I am like a horse and I need a job of some sort (at least he didn't say I'm like a cow). I don't know why but I have always been intrigued with the notary process. I got commissioned and took a NSA class to possibly make a little extra spending money to supplement our income. Not sure how lucrative it will turn out but I've been busy making a webpage and researching/studying things.
Eventually I would like to utilize the RON platforms that my state has approved. Not right away, but down the road once I am more experienced with notary and loan signing.
I did see some very helpful info about RON's platform from other members on this site, but I like to check things out on my own because I am extremely OCD. Hopefully that will help me in this endeavor.
At any rate, I wanted to provide that info here to others from MI who might be considering RON platforms and options. I know some of these platforms are nationwide so might be helpful to others from other states as well.
The website addresses are generic, you may have to explore their site for notary info/sign up. There are still 4 companies that have not contacted me back yet. When I first saw the list of vendors, I was impressed. I thought, wow, lots of options. Things don't always appear as they seem. Research showed me the options are very limited unless you are prepared to put down some serious cash. I'm sure if you have a large direct client base, it could be worth it. But if you are new into this, the options are pretty limited.
The MI SOS website provides a list of the companies but no specific info. I am going to try to attach my document as an image upload, hope it works and is helpful to someone.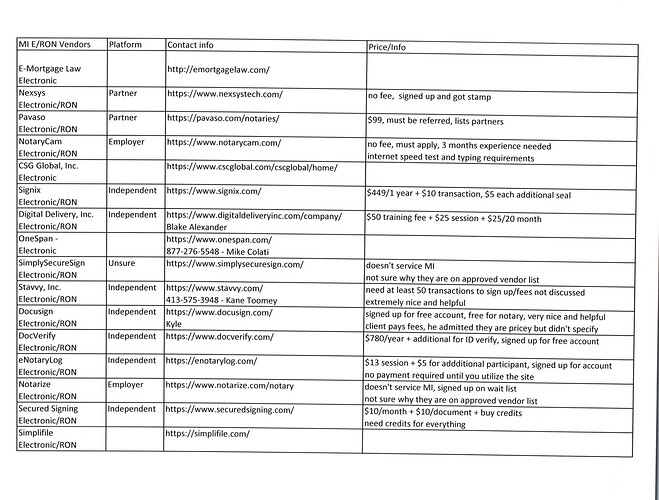 It's a little crooked but it worked. I believe you can click on it and save/print it.