Round or square stamp?which do you use or prefer?
Smallest rectangular stamp allowed. Fits in more places.
I order my stamp and journal through Notary Rotary. I have a basic free account and only login to search for info and buy my notary stamp and journal 10 books at a time:) I don't chat there or anywhere else but only on Notary Cafe:)

I really love my Eco green Xstamper!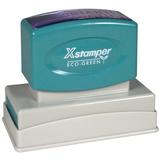 Xstamper N18: Colorado Notary Seal Stamp
Product Number: 10213
Pre-inked Xstamper rectangular Colorado notary stamp. Lifetime warranty against failure and defects. Guaranteed to perform for the duration of your commission with proper care and inking.
Xstamper pre-inked stamps are considered by many to be the best stamps in the industry. The inking surface of the Xstamper is very durable, laser-cut rubber, which will produce over 50,000 fine impressions. Re-ink with Xstamper ink only.
Important: please note that it will take approximately 5 business days to manufacture and ship this Xstamper stamp. If you are in urgent need of a seal stamp, all other stamps normally ship within 1 to 2 business days from the receipt of any required paperwork
I agree. I started with round but then had to switch to rectangle for that reason.
Thanks for reminding me to order a smaller stamp! We definitely need a both sizes in this business. I prefer the rectangle size.