Hi agents,
Best place online/in person to get paper/ink pens ect … supplies drop names below! Fees too if possible…
Walmart. $31 for a case of letter paper and $6 for a ream of legal
I go to staples for paper. I get like a box of 8 stacks of letter paper for $50 or something. There's some kind of special sale at the one I go to that never goes away haha. It's awesome.
Yeah, but I go through a case so fast, I used to go to staples, but I feel like it can be cheaper.
I do find Walmart to be cost effective too.
Amazon $31 for 8 realms of Hammermill letter size
Sam's Club Their brand…10 ream case, 5000 pages…$34 +change
Staples for paper, I have a cartridge world for my ink and everything else I get from amazon. I like amazon because I can get a pack of 200 binder clips for $10.00 vs the $20 pack instore somewhere else.
Amazon for pens $6.79 for 24 pens, walmart.com for all case paper…
You're going to see a huge increase in paper cost soon . I would definitely stock up. I can see the cost of paper pushing many out of the business.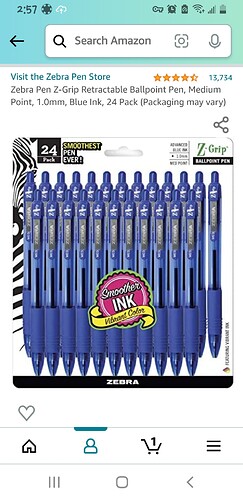 Hi there, you can sign up at Staples as an Elite member and get a ten ream box of letter for under $37 and legal for half price. I haven't tried Walmart, but those prices sound even better. If you go to Office Max or Staples with a posted price for the same item (i.e. toner) they will match it. I get my Brother TN-750 cartridge for $109 odd where it normally sells for over $130. I do not use anything but genuine product because my one try of knock off or refilled cartridge was a giant mess. I do not have time to clean up a toner leak. Both Office Max/Depot and Staples will give you $2 per returned cartridge which you can cash in for a discount. I order online and have my supplies delivered, if I am going in to the store, I have my shredding ready and I expense the trip.
Good morning all,
I have been having problems getting a brother printer. I know there are delays due to the high volume of people buying them recently. Can anyone provide a reputable site that delivers fairly quickly?? I ordered from Adorama in November, dates for delivery changed from Christmas to February.
New to the game
Wayne P
My advice to the "new to the game"? Check ebay and buy refurbished - just watch your page count and monthly duty cycle - can probably get a good deal there that will suffice just in case you decide that this profession is not the game for you. Also, open your market - shop around for different brands that will serve just as well, if not better, than Brother.
It's what I did - and even after established, I got a dual tray HP 4300 series on ebay back in 2013 for $85, shipping included - yes it was old at the time, and older now and a dinosaur - but still going strong.
When starting out new and fresh it may not be prudent to invest in new until you know your business is going to turn a good profit for you.
JMO and Best of Luck
Thanks for the advice Linda!! I will take that into account.
Great info on recycling at Office depot. I was about to send cartridges to HP for free
wow I did not know either and I had already sent Hp a package of them for free in fact I was telling my husband they should have an incentive like this!
As a Notary you can join Staples Advantage under the group 'Loan Signing Service LLC'. The founder of LLS has negotiated significant discounts for products that notaries use. I bought a wastebasket-no discount. 10 ream box of paper $32.00, Shredder machine (commercial strength) $100 discount. Costs nothing to join.
I do the same (Staples Advantage under the group 'Loan Signing Service LLC'. ). Save $20+ on brother toner and they always have paper specials.
I took 3 cartridges to Office Depot and received .03 for each.