This is for all the new notary signing agents who have indicated in their SigningAgent.com profiles that they do not accept eDocs – either because they don't know what eDocs means or they have it confused with the term electronic notarization.
"eDocs " means "Electronic Documents. " eDocs DOES NOT MEAN eNotarization or electronic notarization.
eDocs simply refers to a notary signing agent's ability to receive loan assignments from their hiring company electronically via email or via digital download. To accept eDocs assignments as a notary signing agent, you simply need a computer and an email address.
When potential hiring companies ask you whether you can "accept eDocs", they need to whether they can email their loan package to you for the assignment. Or some hiring companies may want you to login to their secure platform to download the loan package for printing. If you communicate to potential hiring companies that you DO NOT accept eDocs, you are severely crippling chances of getting hired. How else do you expect them to get a loan package in your hands? Snail mail it to you?
When you are ready to accept loan assignments via email, make sure your online notary signing agent profile on SigningAgent.com is set to YES for eDocs!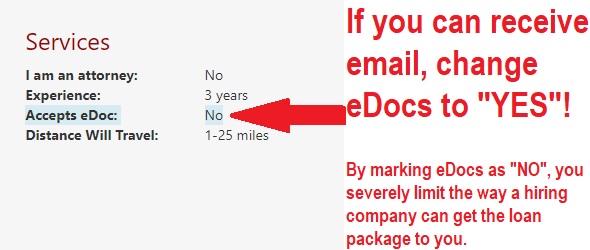 To edit your SignAgent.com profile, you must first login to the NNA website and go to "My Signing Agent Profile" and select the option to edit. Then under Notary Services, change "Accepts eDocs Assignments" from NO to YES. Then SAVE your changes.

Good luck out there!
~Carmen