You're absolutely right. Happy New Year BJ.
Same to you…wishing you, Health, Happiness, and Wealth in the new year. (in that order)
they have an app where you can accept quick gigs and pay much less for those ones
Do you have to go into their website to sign up then DL their app or can you do everything from the app?
Interesting, when I first moved to Shasta County I signed up with Bancserv, (I have been working for 17 years). First sign I got from them was a far location and on a Saturday, neither off which I was interested in. Somewhat talked into it, as I stated I will accept if you have docs. PERIOD. Well no docs, several hours later, no word. Now we are going into about 12 hours down time on hold so I called and got a very attitude person who didn't think I mattered. I canceled. I don't like being lied to especially about docs. Very important sometimes about accepting an order if docs available. So long story short Bancserv deleted me from the service. I tried contacting them to speak on my behalf but I couldn't find an incoming call line. Frankly if you are going to treat me like that, I wouldn't work for you.
Same here, by the time I sign in it's gone.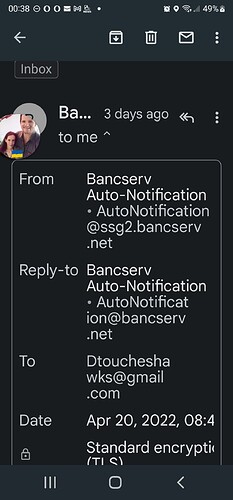 As u can see not everyone knows where an email came from
Go thru the app.OR open the order pdf and the schedulers email is there…Nothing noble about being rude
How do I get signed up with them?
Is this company for new notaries with not that many signings? Does this company require you to have been an agent for a specific amount of time (years)before they accept you? Does any one know why they have an exam? There is only one other site that request an exam of knowledge. I am assuming that is the purpose and to rank you? I appreciate the feed back. @yourcanotary1 how long have you been a notary? I noticed that they only take the first 500 at the first of every month only as well.