Does anybody know where i can go to get the signing agent approval package for Fidelity Title? Thank
You need to be sponsored by an LO or TC/SS.
Hi Lisa
Yes i want to get Fidelity approved so i am wonder if you can help me? You can email me directly at; realtysection@gmail.com
Thank you
Costel Ciocoi
JUST Sent you an email, Toni, our compliance manager will help
Lisa
Hi Lisa1, I email you and I'm looking forward to hearing from you. Thank you.
Thank you Lisa, I just emailed Toni@c2csignings.com to ask for Fidelity sponsorship. I look forward to getting that approval, thanks for posting her information!
I just completed my application at Nationwidesignings.com and it included Fidelity forms that appear to be a complete Fidelity application package. Is that to say that Nationwide Signing Services sponsors their new SAs for Fidelity?
Edit: It appears that I'm now Fidelity Approved per an email just received 3/4/19 from Nationwide Signing Services. Is there a way to verify that it's official enough that I can certify I am Fidelity Approved to other signing organizations? @LISA1 do you know? Also, I never heard back from Toni@c2csignings.com after my email to her seeking sponsorship for Fidelity though that may be a moot point now.
Hi there Jerry, yes Toni did complete yours im sure… can you email me when you can I can look myself
lisa@c2csignings.com
Lisa
You can get directly fidelity approved , but now they acquired BanCServe. They accept new SA only from first to 10 or so of every month. Extensive video based self interview … Once u are bancServe approved, they sent out notifications only thru app. They send to you, give you about 1-2 minute to respond before it times out. NO BLAST To every one.
Payments come directly from fidelity… So there you go. Fidelity accepts crimcheck background check.
No more NNA BS !! Boycott NNA for all aspects , except to your first NNA certificate.
There is a lot here,
Your wrong on a few areas.
Bancserv is owned by Fidelity, they didn't acquire me, they have always been owned by them.
Once you are approved by Bancserv they will send you out confirmations that is true. But you wont be working for a Fidelity escrow agent, and you wont get the full fee.
Fidelity does not use Crimcheck backgound checks, they ONLY approve NNA and Sterling, but the Sterling must be an invitation directly from Fidelity to count.
The NNA is a hard company to work with, but they are needed for the largest title company in the country.
Lisa, can I email you my information to get Fidelity approved please?
Hi, Lisa.
I just sent you a e-mail.
Thanks
Leonna
You do not want to work for C2C trust me.
You can manage without Slimmy C2C, they will low ball you or not pay you.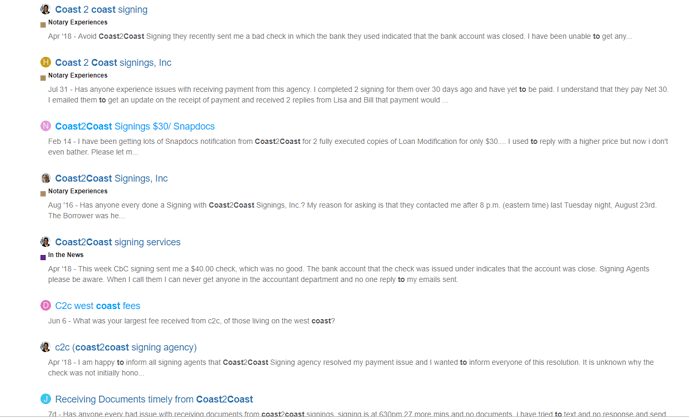 Thanks for the info. They sent me a text through SnapDocs for a signing at 9pm on Halloween night for $75, I see what you mean.
Hello fellow Notary Signing Agents!
Can someone please lead me to the right direction? How do I get Fidelity Approved, please? Thanks for your help in advance.
Is this still open to get information on Fidelity approved. I am a NSA thru NNA and Notary2Pro, I would like to apply with Fidelity. Where can I get an application or package?
Sincerely,
Becky