I am using my mac. Is this a software problem?
I don't have a Brother nor use a Mac, but have seen many inquiries about this issue.
I think the Mac may be a problem, but the general consensus is 'call Brother support and they will walk you thru the setup'.
Cindy,
Here's a YouTube video by Brother that shows how to get it set up for both Windows and Mac. Hope it helps!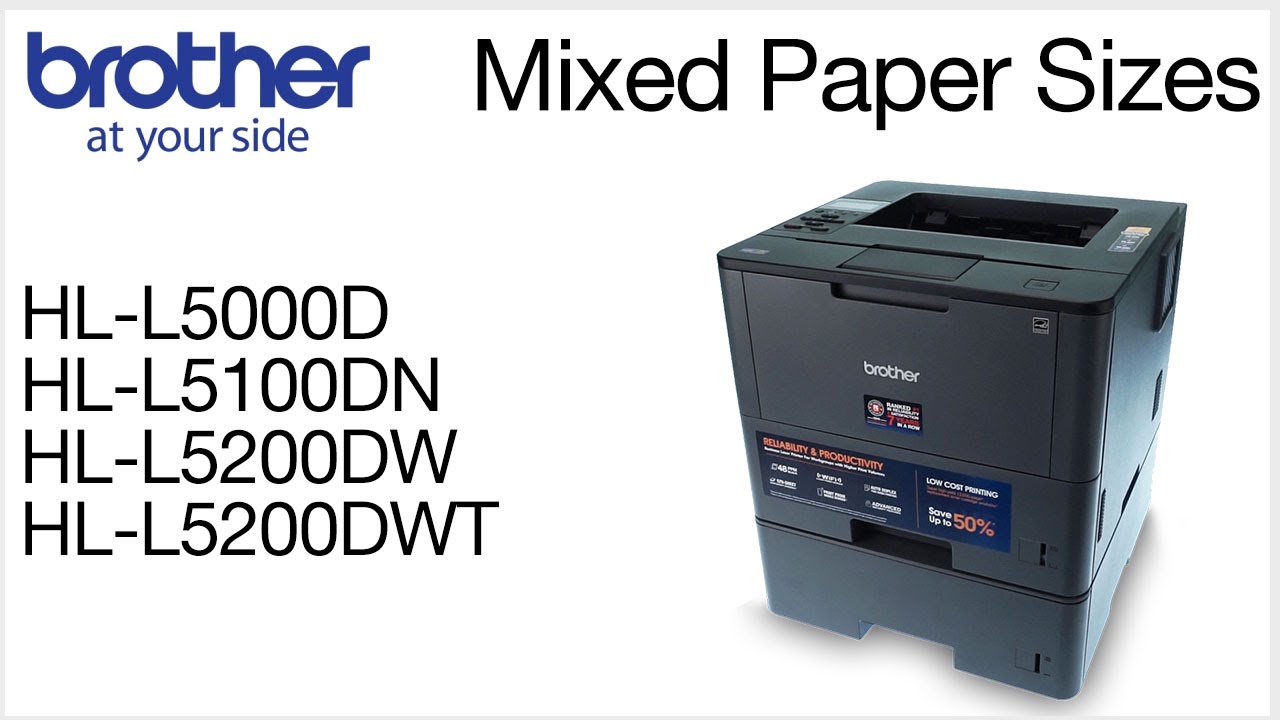 I use a program, "Page Seperator Pro". Download the docs to the desk top, open Page Seperator on the desk top, drag the docs to the Page Seperator, click Seperator, the docs will be Seperator into legal and letter sized docs, print the letter sized docs, put legal paper in your tray, print legal sized docs.
If you only have one printer it may be helpfull to buy a second paper tray. I have 2 printers set up with legal sized and 2 with letter sized.
I don't know about Mac, but I just got a Brother 5200DWT. So far I love it. I recommend downloading the Online Users Guide which helped in setting it up. One thing I missed at first is you have to "define" the trays in printer preferences. So it knows what size paper is in Tray 1 and Tray 2. Then select "choose paper source by PDF size" when you print. With a dual tray printer you don't have to use a page separator.
I have both a Brother and use a Mac. I have struggled for two years and finally threw in the towel and purchased an HP402. It's a little workhorse and I've had no further problems. I purchased the second tray for it as well. My Mac also has the Windows platform on it and I purchased page separator. My tech person felt that the Brother just couldn't handle the larger documents. I use it now only for color copies and faxing/scanning.
I have a Brother and Mac. I went to Apple store to get info on why I could not print from both legal and letter. I was told the only way this could be done is to install Windows to my Mac. I did not want to do this so I went to a computer repair shop and purchased a second hand HP laptop
that I only use for loan docs. I love my Mac and Brother and will not give them up! This works great for me.
Thanks for all the answers. Even though it looks like it doesn't work at least I know it isn't me.
Call Brother's phone number they are really good walking you thru the set up
I've called and been on the phone for hours with Brother and they can not fix the software problem. Mac just doesn't communicate with Brothers printers.
It does not look like this printer has a dual tray.
I also have a 5200. I agree with the general consensus that the MAC is the problem. If all else fails I suggest you take the route that others have taken and get a slave PC that runs W10 and use it for printing only. You can get them on Craigslist or pawn shops.
There are also windows laptops which have very small screens, little memory and not much else but they are new, if that's what you prefer, and they are cheap but will do very well as a print slave.
Are you a photographer, kenmig47?
Thanks but it must not be as easy as the video makes it look. Glad I don't have a Mac. Apple doesn't play well with others period. My first 2 smartphones were iPhones. I haven't looked back since switching to Android about 5 years ago.

I used that technique on my L6200 and guess what? I worked! It had been set on 'auto' previously. I did see a few errors on the legal pages though, so I'll probably stick to my PC to print out docs until I figure out a way around that issue.
I had this same problem!! It was so frustrating. What I have to do is place letter size paper in first tray and legal in 2nd tray. I print the docs that are letter size, say pages 1-15 and it defaults to tray 1. Then I select the legal size docs and choose "legal size" under print settings and then it prints on legal. This is the only solution I have found. Hope this helps!
Mac will not let you separate and print letter/legal. I had this issue, started with a HP printer and my Mac then returned the HP and got a brother printer, after two weeks going back and forth with brother and Apple I was told Mac platform does not separate the pdf's to print separately. I picked up a used Windows laptop from Best Buy for $150 and wrote off. I hope that helps.
I spent time on phone with both Brother and Mac and it appears that it has to do with Mac drivers. It sometimes works when I select "actual size" and "choose by pdf size." But, it's hit and miss.
Mac's DO communicate with Brother's just not when it is telling the printer to use both legal and letter trays. According to Apple this will not work unless you install Windows in your Mac.