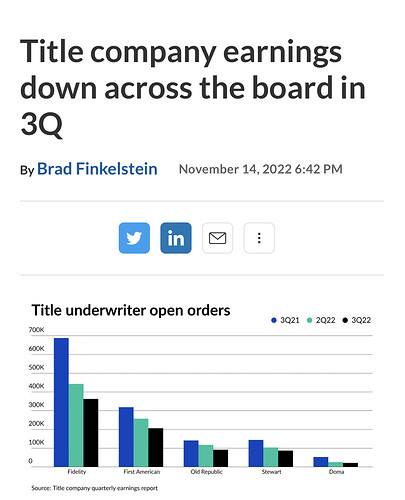 Lower margins at the nation's publicly traded title insurers took a bite out of third quarter profitability.
The combination of less business — due to far fewer mortgage originations — and investment losses for some companies had an impact on the bottom line.
Still, of the six title underwriters that reported results, four were profitable; Old Republic's title line also made money, although the parent company — which has a general insurance subsidiary and a mortgage insurance business in run-off — reported a net loss. Only Doma, which already retrenched on some of its plans, took a loss, although management says it's accelerating the timeline on its goal to become profitable.
Here is how the title insurance underwriters performed in the third quarter:
Fidelity readies distribution of 15% of life insurer
Fidelity National Financial reported net earnings of $289 million for the third quarter, compared with $382 million in the second quarter and $732 million for thethird quarter of 2021.
Pretax earnings for the title segment totaled $289 million for the period with revenue of $2.3 billion. In the second quarter, title revenue was $2.6 billion, while in the third quarter of 2021, it was $486 million and $2.9 billion.
FNF's pretax title margin was 14.6%, down from 16.6% one year ago.
Open orders ended the quarter at 363,000 from 443,000 three months earlier and 688,000 a year prior. Closed orders over the same period fell to 278,000 from 348,000 and 527,000.
"During challenging environments such as these, I have always stressed the importance of maintaining a fortress-like balance sheet with ample liquidity to take advantage of market dislocations," William Foley, FNF's chairman, said in a press release. "To that end, we paid off all of our $400 million Senior Notes which matured on Sept. 1, leaving FNF with a debt to capitalization ratio, excluding accumulated other comprehensive income, of 23%."
Another balance sheet move FNF is undertaking following the quarter's end is the distribution of 15% of its stake in F&G Annuities & Life on Nov. 22.
"While rising rates are pressuring the housing sector, they are proving to be a tailwind to F&G's results as assets under management grew to $42 billion at Sept. 30," Foley said. The holding company in June 2020 acquired the shares it didn't already own in the life insurer.
Also subsequent to the end of the quarter, FNF purchased four connected St. Louis-based title and settlement agencies: St. Louis Title, Security Title Insurance Agency and Accurate Disbursing of St. Louis, Missouri, and Benchmark Title of Southern Illinois. Terms of the deal was not disclosed.
First American barely makes a profit
Net investment losses of $226 million during the third quarter contributed to net income of $2 million at First American Financial.
In the second quarter, the company earned $109 million, while in the third quarter of 2021, it had $445 million of profit.
The pretax title margin ended the period at 9.9%, down from 16.4% one year prior.
Total orders opened during the quarter fell to 206,200 from 257,200 in the second quarter and 318,800 one year ago. Over the same time frame, orders closed dropped to 160,500 from 205,000 and 252,700.
"While we expect the challenging market environment to continue into 2023, we believe the company is well positioned to emerge from this cycle even stronger," said CEO Ken DeGiorgio, in a press release. "The market has shifted away from refinance toward purchase and commercial transactions where we are stronger and, consequently, we are growing our market share."
DeGiorgio referenced the depository the company owns, First American Trust, which enables it to better capitalize on rising interest rates.
Investment losses hurt Old Republic's bottom line
Old Republic's title insurance business had pretax earnings of $73.3 million in the third quarter, down from $109.5 million in the second quarter and $135.7 million in the third quarter of 2021.
"Title insurance net premiums and fees earned declined by 15.2% and 6.9% for the third quarter and first nine months, respectively," the Old Republic earnings release said. "Both directly produced and agency produced revenues declined during the quarter, and it is expected that such revenues will continue to be lower in the fourth quarter of this year when compared to the same period last year."
The title business had open orders of 91,903 and closed orders of 80,498 in the third quarter, compared with 117,243 and 102,585 for the second quarter and 141,250 and 123,124 for the third quarter of 2021.
In October, Old Republic acquired Veritas Title Partners, a title agency that operates in the Houston market.
Meanwhile, the run-off mortgage insurance business reported a pretax operating profit of $9.2 million, compared with $12.2 million in the second quarter and $8.4 million in the third quarter of 2021.
The parent company lost $91.7 million in the quarter, due to investment losses of $297.9 million. In the second quarter, it reported a loss of $40.1 million, with investment losses of $317.4 million. While one year ago, it earned $88.7 million.
Stewart's title margin down nearly 50% year-over-year
Stewart Information Services reported third quarter net income of $29.4 million, compared with $61.7 million for the prior quarter and $88.7 million in the third quarter of 2021.
Its title insurance business brought in $51.9 million of pretax income versus $119.1 million one year prior. Pretax margin over the same time frame fell to 8% from 15.4%.
Open order counts fell to 86,974 from 103,646 in the second quarter and 144,155 a year ago. Closed orders fell to 66,798 from 88,842 and 109,462, respectively.
Real estate solutions had a year-over-year increase in pretax income to $3.4 million from $2.8 million.
Meanwhile, after the quarter ended, Stewart closed on the purchase of reverse mortgage specialist FNC Title Services, which could add $10 million in pretax income, management said.
Doma cuts timeframe to expected profitability
Doma lost $84.1 million in the third quarter, more than the $58.7 million of net losses for the second quarter and $34.3 million in losses for the third quarter of 2021.
But those growing negative results have pushed management to move forward its goal of being profitable according to the non-GAAP metric of adjusted earnings before interest, taxes, depreciation and amortization.
We know how important reaching adjusted EBITDA profitability is, especially as we're facing a set of circumstances that seem to be pointing the housing market toward recession," said Max Simkoff, CEO of Doma in a press release. "It is more important now than it ever has been to continue to deliver on our mission and to do so at scale, which is why we are committed to achieving adjusted EBITDA profitability sooner than the late 2023 timeline which we had previously communicated."
Still in a move that it claimed would not affect the speeding up of its goal, Doma revised its guidance for the full year for its adjusted EBITDA to a loss of $135 million and $140 million, versus the loss of $100 million to $120 million it previously communicated.
For the quarter, Doma had 21,509 open orders and 15,302 closed orders, versus 25,231 and 18,799 in the second quarter and 52,867 and 35,300 for the third quarter in 2021.
Investors more profitable than First American
The smallest of the publicly traded title underwriters, Chapel Hill, North Carolina-based Investors Title reported third quarter net income of $7.9 million, or nearly $6 million more than First American reported.
This is an increase from the second quarter's $2.3 million although lower than the $14.5 million for the prior year period.
Although premium revenue was down approximately 8% compared with the third quarter of 2021, escrow and other title related fees were up over 54% and revenue from non-title services was almost 58% higher.
"Although overall transaction volumes were lower than the prior year quarter, our recent successes in expanding our market footprint materially contributed to lessening the impact of the market slowdown on our operating performance," J. Allen Fine, chairman, said in a press release.
"We believe the company is well-positioned as we transition to a different stage of the real estate cycle, and plan to continue to make targeted investments in our business to expand our geographic presence, improve our operating performance, and deliver value to our customers and business partners," he said.
Originations Editor, National Mortgage News