Do not work for this company. The worst ever. Not very honest and does not look after its notary.
I did several assignments for them and I did not have any issues with the assignment or getting paid on time. Do you wish to elaborate on the reason for your discontent?
I did a signing for this company, and now they refused to compensate me because they said ONE of the signer's signatures on one document is incorrect because the way he signed his name. They wanted me to go and get that one signature resigned. I had no problem doing that, but unfortunately I wasn't in California at that time and suggested that I could go back after returning from my trip. I can understand if they deducted part of my fee because I couldn't go back to get that one signature. For them to wipe out the entire notary fee is unreasonable and unfair. I spent an hour and a half with the borrower as the docs needed to be signed with power of attorney for his wife, printed and copied the documents, and scanned the documents afterwards. I also found two witnesses to witness the signer's signatures. For them to not pay me anything is unacceptable as there is no prior agreement that if a mistake is made or I refused to correct the mistake, my entire signing fees would be waived. I won't work for this company again, they do not look after their notaries. I doubt they paid my entire signing fee to the notary who went to get that one signature signed. Where is the rest of the signing fee?
Then the owner responded with a lie saying that I missed signatures and that's why they refused to pay me.
I am so sorry that you had that experience. This is their payment terms for all their assignments
Unlimited Ink Notary generally pays assignments within 30 days of closing, or less but reserves the right to pay within 90 days of service for select clients. Most payments are sent within 30 days. It is Unlimited Ink's policy to never withhold money from a notary for service but funds must be received from the client prior to disbursement. Please note all clients are given up to 30 days to make payment before we send a client demand letter. Notaries are not allowed to send client demand letters and will be considered in breach of contract if they do- and they will not be paid for any signings. All inquires about payment should be sent to accounting@unlimitedinknotary. We do take your payments very seriously and will always strive to ensure you are paid within a reasonable amount of time. Most clients do pay us within 30 days and we release payments as fast as possible once the funds paid to us are secure (cleared). ALL NOTARIES MUST HAVE A CURRENT W9 (FOR THIS YEAR)
Not defending them…but maybe their stand is that because you did not complete the assignment they consider it a breach in contract and therefore they are not obligated to pay you…that's my thought on this situation.
I don't know if other companies would do a partial payment or no payment at all. That would be a great question to post in this forum.
I don't know but being a loan signing agent for 16 years, I hardly make any mistake and have never encountered any notary companies like this one. The mistake they claimed wasn't even my mistake. Title just didn't like the way that he signed one signature for his wife using POA. Anyway, it's done, it's done now, but the owner responded my complaint with a lie showing me that this company is not a company I want to work for. No integrity.
Again, I couldn't have done it even if I wanted to, I was in another state. It's just hard to believe that they would pay someone else of my entire fee to sign one signature.
Yes i agree with you that is definitely not fair.
Damn, with those payment terms, I'd walk away. 90 days? Not paying the notary if their client doesn't pay them? ROFL–not a chance.
I feel ya on that… but I have had no issues with ever getting paid by them and I have done quite a few closings and have gotten paid within 30 days.
Good for you. I wouldn't work for this company again. The owner is obnoxious and a liar. I have never encountered any notary companies like this one in my entire 16 years as a loan signing agent.
Most of them are reasonable like this company as attached. If you miss something, they deduct your pay, no one would ever waive the entire fees. On top of all, I didn't even miss any signature.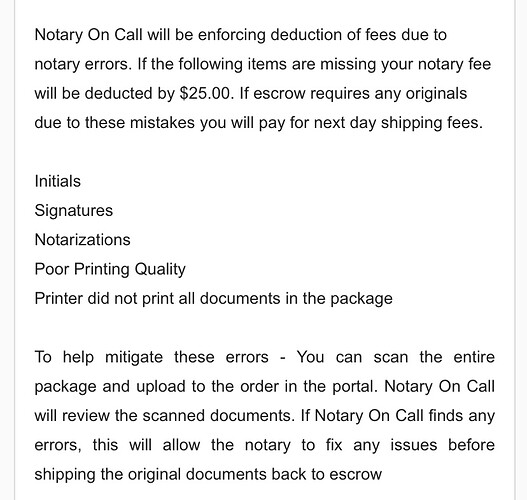 Eeeeekkk that's their payment terms? No thank you! Of course to each their own but that is not how it works. My max is NET 45 and that's for good money (over $300). My OCD brain can't take waiting up to 60/90 for payment ( I learned this the hard way)


Seeing money owed to me for over 30 drives me absolutely insane

Likewise. Have done plenty of work for this company with no issues. Read payment terms and see if it fits your financial needs prior to committing. They want 90 days to pay, that's fine with me. Come day 91? I unleash the Kraken!
I did one for them and had to make multiple phone calls for payment. I finally got paid 60 days after the signing and there were no errors. Now today they are offering an out of state seller package with scan backs for $60. And wait 60 days to get paid?!? I won't work for them again.
Bad business. It happens. You just never know sometimes, even when you do everything to the T. This is the ficklest business.
I just visited this website and they require Notary2Pro training and a high ranking on NotaryStars in order to become a signing agent. Is this company still offering only $75 loan signing fees regardless of the signing?
I stopped working for them a yr ago because they didnt pay on time 3+ months and I had take time to call and speak to the accounting manager every month, which is unacceptable. Not only that, their fee got lower and lower. No thank you.
Wondering if the OP @lzzhuang88 could ADD the term "ALERT" or "WARNING" at the beginning of the Thread Title please . . .

NOTE: If doing a Search to vet a potential new client and the term ALERT or WARNING is in the title, it would be a quicker reference instead of having to pull up the thread, read through the posts, etc.
I am having the same problem you have to call to get payment and they give you an excuse all the time I have 5 signings to get paid and I have to wait the 60 days they don't pay at 30 days and even though I am a notary 2 pro graduate they stopped giving me work when I stopped paying the 25 fee for notary stars or probably because I am a pain hounding them for my money. I wil not be working for them again.